Latest entries
Screen: Notebook screens continue to get bigger and wider, making it possible to view spreadsheets or movies with ease. Most notebook manufacturers offer laptops with 17-inch wide screens at affordable prices even budget shoppers could afford. Frequent business fliers can choose from among the many laptops with screen sizes of 12.1 or 13.3 inches–some of which are wide-screen models.
Battery: Battery life continues to improve. Notebooks using a Core Duo or Core 2 Duo processor averaged roughly 3.5 hours of life per battery and some notebooks can run for up to 7 hours. Sellers sometimes offer supplemental batteries to boost battery life.
Windows 8 have revolutionized the touch screen laptops. The Microsoft's new touch focused operating system has paved way to different computer manufacturers to come up with their own touch screens that previously didn't exist at all. This contradicted Steve Jobs when he said in 2010 that "Touch surfaces don't want to be vertical." With the great Jobs being against this, people are expecting to be disappointed with the release of touchscreen laptops this year. Surprisingly so, it hasn't been the case. It is now safe to say that touchscreens are the future.
Here are different types of Touchscreen laptops out now in the market:
Standard Touch – The least crazy design of all touchscreens. Just like a giant touch pad. This will always be used primarily as a laptop.
Convertibles – work by folding screen over the keyboard using a hinge. Has the same look as a regular laptop, the tablet mode is a nice bonus.
Sliders – With a display that slides over the keyboard. Most of the sliders are very light and small. The only downside is the reduced keyboard space.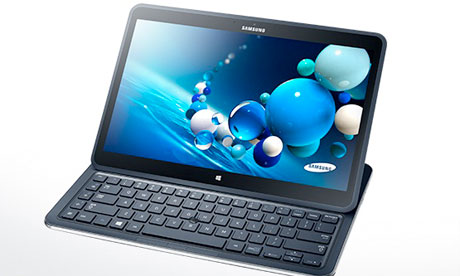 Samsung has just revealed their latest and coolest product to date, their hybrid device. It is a tablet that works both with Windows 8 and Android. The product is called Ativ Book Q, and it was unveiled on Thursday in London for everyone to see. The Ativ Book Q has a screen and a keyboard, making it sort of like a laptop. The screen folds and has hinges that moves to make it into a tablet anytime a user wants. For watching videos or showing a presentation, the screen can be flipped over so that it can stand. The device is sleek and slim, it only weights 1.29kg and 14mm in size.
Samsung says this about the product ""Addressing a common desire among PC users to be able to access Android apps on a Windows-based PC, the Ativ Q allows you to now experience both Windows 8 and Android Jellybean 4.2.2 on the same device," There is no announcement yet as to how much the product will be when sold in the market.
Have you ever been in a situation where you have to decide which is better, buying a laptop or a desktop computer? Some people have to decide when they are buying their first ever computer or needing an upgrade. This can be a very difficult decision especially now that there are so many available computers in the market today.
When you are making a decision, first thing to consider is location. Where will you be needing this computer? Is this computer going to be used a lot at home? At work? While traveling to classes (if a student)? If you need a computer that you can take with you everywhere then the smartest thing to do is buy a laptop. It is smaller and lighter than a desktop, therefore making it perfect for traveling.
If you only access the computer for work and won't have to take it with you to travel, then a desktop is the best solution. If you are using the computer for very long hours, then desktop is built for long performances.
How ironic is it that the best performing Windows laptop was not actually made to be programmed by Windows. PC company Soluto reported that Apple's Macbook Pro is the best performing Windows laptop! Soluto made this statement after having done tests and research. They have used 150,o00 laptops and experienced a total of 224,144 computer crashes. 84, 251 blue screen issues also occurred and out of all the 150,000 laptops, Macbook pro had the least number of crash incidents. The whole testing process lasted for 3 months.
Soluto said that it is impressive how Windows have worked perfectly with Apple. They said "A main factor in this machine's metrics is the fact that every Windows installation on it is clean. With PC manufacturers loading so much crapware on new laptops, this is a bit of an unfair competition," The next computer who had least crashes is the 15-inch Acer Aspire E1-571, followed by Dell XPS 13
It has been the talk of town in the digital world for some months now that Google will be releasing their own touch screen laptop. Rumor no more! According to the Wall Street Journal, Google is coming out with this product this year. It seems like the multi-million dollar company is also doing well in terms of low-cost laptop mark. During last quarter of last year, they have managed to sell 100,000 Chromebooks in a $199 to $249 price range on the last quarter of 2012. This puts them closer to their rival, Microsoft. Microsoft already has their own version of touch screen computers, 25 percent of the computers sold last year were all touch screen.
Having touch on a regular laptop is becoming more and more popular. Though this doesn't make it any better than a normal computer, it still has more edge. Google has not announced which hardware company they are partnering with on this project. It might be with Acer or Samsung, both companies they've already worked with in the past.
2013 is starting out well in the electronic industry. CES (Consumer Electronics Show) just wrapped up and people now have a clearer view on where the market is headed. There are a few laptop computers that stood out and should definitely be looked out for. This year, was a preview of Ultrabooks which made everyone believe that fat notebooks will be extinct soon. So here are some of the most exciting offers this year. Starting with Lenovo's Yoga 11s. The system runs full with Windows 8 and is a full pledged PC. It can accommodate up to 8GB of RAM and 128GB SSD. It will be on sale for the starting price of $799.
Another laptop to watch out for is NEC LaVie X. This super thin device (12.8mm thick) looks really impressive, though there is not a lot of available information on specs except for 1,920 x 1,080 display. Also rumored to only be available in Japan.
Lenovo ThinkPad Helix is an 11.6-inch Ultrabook with a reversible display and promises 10 hours of battery life. This will be out in the market on February for an expensive $1,499 up value.
The skyrocketing popularity of laptop computers has been in a way ironic. They are totally portable, and compared to the desk tops, they use less power. they also make less noise than any desktop models. But, often times, they are often a little bit slower and they have have less graphics. The sound processing power, even although these differences are considered very small that users do not really notice.
Moreover, laptops are considered more expensive than the desktops. Nowadays, we can see the gap gap in price closing. The prices of laptops are falling faster than the desktop prices. Also, laptop PCs actually have outsold desktop models for the first time in May 2005.
'Tis the season to be jolly! It's that time of the year again! Christmas season is when everyone gets a bit more money and a bit more spendthrifty and purchase different products they likely not need. Computers/laptops are ideal "treat" for yourself. This actually is a good purchase as long as you know what you're getting. So here are some tips when it comes to buying a new computer. First and foremost do a good amount of research. Know what's available in the market and pick something that suits your needs. Get something that has at least 4GB ram. Anything below that then there's a tendency for your computer to run slow. Do not always get "what looks cute" the color of your laptop shouldn't be on your top priority. Just like choosing clothes, you have to try before you buy! Shopping online would only provide you specs but you also need to know the feel of it in your hands.
With the power laptops sport these days, you can do virtually anything you can on your laptop that you can do on your desktop computer – including FOREX trading.
FOREX trading is a serious business that needs your constant attention if you want to make more than you lose. This is perhaps why more and more FOREX traders are relying on their laptops to check on their accounts all day. If you haven't migrated to using your laptop for FOREX trading and rely solely on your trusty desktop machine, you are surely missing out on opportunities all day long.
However, before migrating everything on your laptop research thoroughly on how to use laptops to trade FOREX. This ensures that the FOREX platform and laptop you use are compatible and that the laptop is also secure enough for this risky business. . Aside from your laptop and FOREX platform, you also need to be sure that you only use secure internet connections when trading to minimize your risk of getting hacked.
Once you've successfully migrated your FOREX platform on your laptop, don't forget to keep your battery pack alive if you want to trade all day!
Image via Images of Money